The Reserve Officer Training Corps (ROTC) is the largest commissioning source for U.S. Army officers.  ROTC units are spread out around 274 different college campuses around America.  Joining an ROTC unit is the one way for college students to explore military service with no commitment to join the military.  For anyone thinking about joining ROTC, here are 10 reasons to consider doing so.
1. Scholarship Benefits
For good reason the benefit most often associated with ROTC is our scholarship program.  ROTC has a robust number of scholarships that both high school and college students can apply for.  High school students can apply for ROTC National Scholarships.  Students selected for a National Scholarship will receive either a 4-year scholarship or a 3-year advanced designee scholarship to pay for college.  Make sure to read 10 Tips for A Successful ROTC National Scholarship Application.
Students who are already in college can still enroll into ROTC and apply for campus based scholarships as well.  Our internal ROTC board meets during the Spring term to interview and award Cadets 2 and 3 year scholarships that are based on their academic, physical fitness, and ROTC performance.
Students not interested in pursuing an Active Duty military career have the option to pursue a scholarship through the Washington State National Guard or the U.S. Army Reserve.  The Guard and Reserves offer Minuteman and GRFD Scholarships to pay for college in return for commissioning as an officer into the National Guard or Reserve.  If you want to serve your country, but still pursue a civilian career, the Guard and Reserves is the pay to do this.
Beyond these Army scholarships EWU Army ROTC also has scholarships sponsored by alumni that go towards ROTC students.  Our most prominent alumni scholarship is the Randy Van Turner ROTC Scholarship.  This scholarship awards up to one year of tuition for qualified Cadets.  Please contact us to learn more about our alumni scholarships.
2. Receive a $420 a Month Stipend

One of the least known benefits of joining ROTC is the ability to receive a stipend.  All Cadets that contract into the ROTC program receive a $420 a month stipend.  There are not many organizations that will give students not only a scholarship, but pay them each month a stipend to go to school like ROTC does.  Besides the stipend, contracted Cadets also receive $1,200 a year towards their college textbooks.
3. Build Leadership Skills
There is not a class on campus that will build student leadership skills more than ROTC.  In our Military Science classes Cadets learn leadership techniques that help them to progressively lead larger groups of people.  Their skills are tested by leading fellow Cadets during basic military skills training as well as organizing and executing volunteer activities in the local community.  Our leadership training program has led to EWU Army ROTC having the top Cadet in the West Coast of the United States as well as two other Cadets recognized for being the top volunteers at EWU and the city of Cheney.  Find out what inner leadership skills you have by joining Army ROTC.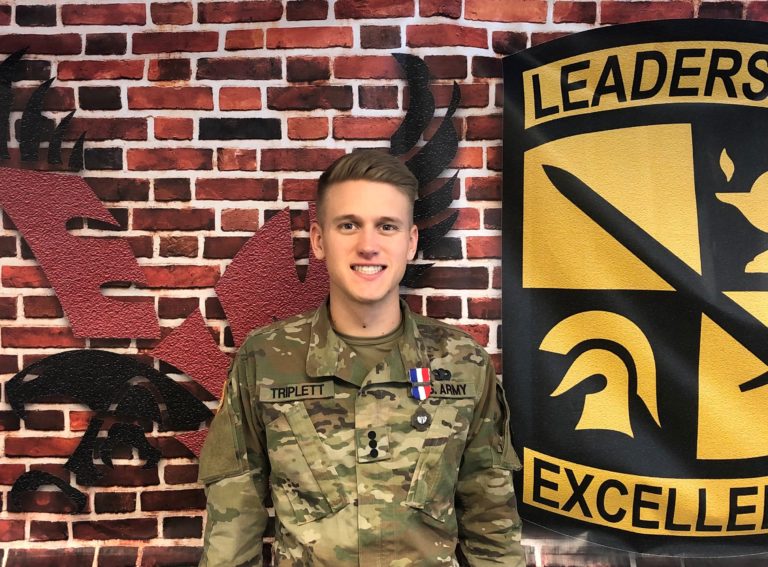 4. Attend Challenging Training & Internships

In ROTC our Cadets progressively master basic soldier skills such as land navigation and rifle marksmanship, but they also have the opportunity to attend advanced U.S. Army training such as Airborne School and Air Assault School.   Something that makes EWU Army ROTC unique is that we host the German Armed Forces Proficiency Badge (GAFPB) test.  The GAFPB is one of the handful of foreign service badges U.S. military members can wear and Eastern is one of the few college campuses in the U.S. that German military personnel travel to, to conduct the GAFPB test.  If you ever wondered what it is like to jump out of an airplane, rappel out of a helicopter, or push yourself to meet the standards of a foreign military, joining EWU Army ROTC will give you the chance to do this.
Another aspect of ROTC few people know about, are the amount of Cadet Command sponsored internships available to Cadets.  In recent summers we have had Cadets attend internships at the National Forensic Science Technology Center, engineering internships, internship testing new Army communications technology, nursing internships at Army hospitals, etc.  Cadets can also intern with active duty military units to experience what it is like to be an Army officer.  Whatever your interest my be the Army likely has an internship for you.
5. Improve Your Physical Fitness

To get in shape many people buy expensive gym memberships or pay for the services of a personal trainer.  If you want to get fit forget paying for a gym membership and instead join ROTC.  We have a robust and challenging physical fitness program that is designed to get people who have not exercised before into shape.  Additionally at EWU Army ROTC we have our own gym for Cadets to work out at.  Entrance into our Cadet Hall gym only requires you to be enrolled into an ROTC class.  For those that need extra personal instruction, we even have set times each week where cadre are ready to teach and assist you with workouts personalized to improve your fitness.
6. Serve A Cause Bigger Than Yourself

Being in the Army is not a job, but a profession where Soldiers have the opportunity to serve their country and be part of something bigger then themselves.  In ROTC our Cadets learn to be part of something bigger than themselves by being active on campus and in various volunteer events in the region.  For those that want to do something for a greater cause joining ROTC is a way to do this.
7. Well Paying Job After Graduation
Finding a well paying job after graduation can be a stressful time for graduating students.  This is not a problem for ROTC graduates who commission as an Active Duty officer after graduation.  A Second Lieutenant fresh out of college makes $39,444 in annual pay.  In addition to this pay they also receive a housing allowance to pay for rent based on the cost of living of where they are stationed.  This will add $20,000+ annually to an officer's take home pay.  Besides the pay, Army officers also receive full health and dental coverage, life insurance, base privileges, and a robust retirement package.
Finally officer pay increases with time and rank in service.  For example an officer is generally promoted to Captain after four years of service.  A Captain is paid $70,164 annually.  The housing allowance pushes the captain's pay to nearly $100,000 dollars.  How many career fields pay nearly a six figure salary after only being out of college for four years?  Not many and the Army is one of them.
8. A Wide Variety of Career Paths to Choose From
When most people think of Army jobs, they think of boots on the ground infantry.  However, being in the Infantry is only one of the 17 Army career fields that an ROTC Cadet can pursue.  Do you want to learn how to fly helicopters?  EWU Army ROTC has had Cadets successfully become aviators.  We have also had Cadets become Military Intelligence analysts, logisticians, tank commanders, engineers, nurses, among a host of other Army branches.  If you have a particular career interest, the Army will likely have a branch to match that interest that you can specialize in.
9. Make Lifelong Friends
Going to college is a stressful enough experience, made even harder by the prospect of having to make a whole new network of friends.  Army ROTC can help you not only make new friends on campus, but new friends for life.  The bonding experience Cadets go through in ROTC carries over into their future military careers where Eastern graduates stay in touch and serve together on military bases in the U.S. and around the world.  Additionally EWU ROTC makes you part of extensive alumni network that features many senior military officers that can mentor and assist you in your future career.
10. It's Fun!
ROTC is a blast and gives you a much different college experience than other students.  You will meet amazing people, be pushed beyond your limits, and accomplish goals that before may not have seen possible.  Besides military training our Cadets do fun activities such as rafting trips, Spartan races, intramural athletics teams, Cannon Crew, and our annual Military Ball.  Best of all is that you are doing all of this with some of your best friends!