Vanessa is from El Paso, Texas and earned her Bachelor's degree in Psychology from Texas A&M University and her Master's degree in Counseling from Northern Arizona University. She came to Eastern Washington University in March of 2018 from the University of Kansas where she managed the Center for Sexuality and Gender Diversity. Vanessa is passionate about helping students build community on campus and working to raise the voice of underrepresented students. Vanessa hopes that the Multicultural Center feels like home to those who might not feel included elsewhere. Vanessa would love to meet you, stop by and say hello soon!

Makai Wright
He/Him/His
Office Manager
Makai is a Senior at EWU from Puyallup, Washington.  He is a social work major and an africana studies minor.  Makai is really passionate in assisting others and he has been with the Multicultural Center since April 2018.  Makai's favorite part about EWU is getting involved with the school outside of class because of the many doors it opened up for his college experience.

Nathanael Elongo
He/Him/His
Equity Educator
Nathanael is a Senior at EWU from Kent, Washington.  He is majoring in Human Resource Management while minoring in economics.  Fun fact about Nathanael is that he can speak 3 different languages!

Alexander Brooks
He/They
Equity Educator
Alex is a 5th year senior who is majoring in Visual Communication Design with minors in Japanese and 3D Animation. Alex is from Auburn, WA and has a passion for art, music, and social justice and hopes to become an animator and make sure there is more representation in animated media.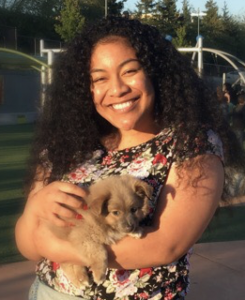 Angela Vakauta
She/Her/Hers
Equity Educator
Angela-Merici Vakauta is a second year pre-nursing student here at Eastern Washington University. She is Tongan and is the first in her family to further her education past high school. Angela-Merici strives to accentuate the significance of cultural sensitivity and competence in healthcare along with spreading genuine care to all those that she comes across.

Brooke Wright
She/Her/Hers
Equity Educator
Brooke is from Kennewick, WA. She is senior working for a degree in Social Studies/ Secondary Education. Brooke is devoted to making education more equitable, accessible, and accurate. One of her favorite parts about being involved on campus is collaborating with other students. She hopes people can be empowered throughout their time at EWU.

Darinka Cereceres Reyes
She/Her/Hers
Student Marketing Consultant
Darinka is a senior at EWU born in Jiminez, Chihuahua and raised in Everett, WA. She is majoring in Film with the intent to work with films that are socially and politically critical, as well as, diverse in the characters, actors, and cultures represented in them. Darinka's favorite thing about EWU is the people she's met along the way. She is really glad she met her co-workers at the Multicultural Center, friends in M.E.Ch.A (Movimiento Estudiantil Chicanx de Aztlán), and her comadres from MXC (Mayahuel Xochiquetzal Cihuapilli).