Program Description:
Equity Educators are a group of EWU students who facilitate workshops to promote equitable frameworks and practices within EWU and the broader community. They foster critical consciousness and a transformative campus climate by helping students understand topics such as systems of oppression, intersectionality, privilege, and microaggressions. Equity educators strive to combat hate in the community through education and transformative practices.
Equity Educators also host a program called Our Space. Our Space provides a space for identity-based discussion groups to think critically and dialogue thoughtfully. Follow the MCC on Facebook or visit the MCC for a more detailed schedule of Our Space meetings.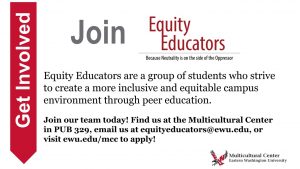 Questions?
Contact an equity educator at equityeducators@ewu.edu or visit the MCC in PUB 329.